Energy Park is located on the corner of Memorial Drive and Westlake Park Blvd. next to the Westlake Child Development Center. It includes:
Full size covered and lighted basketball/volleyball court with cooling fans.
100x200ft. multipurpose field
1/3 mile lighted walking/running trail
Restrooms with kit lockers
Water fountains
Please adhere to all posted rules at Energy Park
Hours of operation:
Monday - Friday 5:00 AM - 7:30 PM
Open to all bp Employees, bp Contractors/Contingent Workers, bp Interns, bp Spouses and bp Retirees.
Below is a schedule of designated sports and times reserved for the park. For questions, contact
Stephen Salazar
.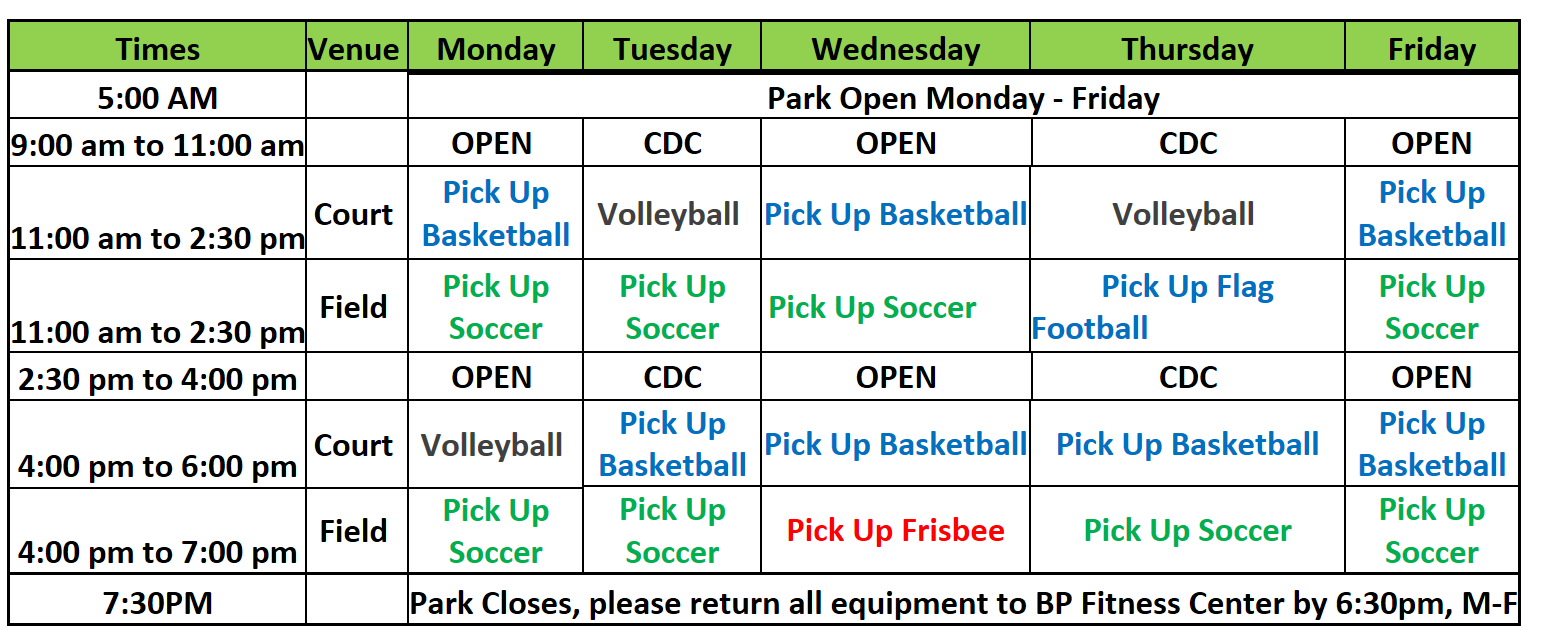 *Schedule is subject to change and all business functions take precedence over Fitness activities.
Use of park by Child Development Center (CDC) means no other persons are allowed in the park during those times.
Equipment is available for check-out at the BP Fitness Centers in Helios Plaza and WL1. Must be a BP Fitness Center Member to check out equipment.
Equipment includes:
Balls (basketball/soccer/volleyball/football)
Frisbees/discs
Flag football flags
Scoreboards/clocks
Showers are currently located in the Helios Fitness and WL1 Centers.
To reserve Energy Park for business meetings, contact conferencing services by calling ext. 7000 or placing a work order with Service Express. The space is being managed by the same method as other on-campus venues.